Home
Welcome to
Harlow Computer Repairs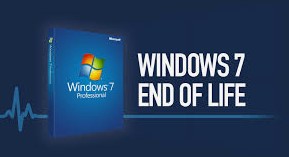 SELF ISOLATING?  WE MIGHT BE ABLE TO HELP YOU REMOTELY ( as long as you have internet)                           
                                                                   ( speak to us about possibly upgrading your machine to Windows 10 )
IN NEED OF A WINDOWS PC / LAPTOP CLEAN?  OR IS IT DEAD OR NOT STARTING UP?
"Your Mobile Windows PC Mechanic"  – No shop = No overheads = keep prices down!
INTERNET ISSUES -ANTI VIRUS SORTED – SPYWARE/ POP UPS? – SLOW DOING THINGS? WORRIED ABOUT LOSING PRECIOUS PHOTOGRAPHS ?
VIRUS/SECURITY CHECKING, SPYWARE/ADWARE , FAN CLEANING, EXTRA MEMORY, GENERAL UPGRADES,  SPRING CLEAN, THE INTERNET, USB, WIFI ISSUES, HARD DRIVES AND A WHOLE LOT MORE!!…..
We can help you upgrade your old windows Vista or recently Windows 7 laptop or computer to Windows 10 .
Or just some advice ? Text your question to Frank: 07970675952
We also offer remote assistance to established customers. That way, as long as you have internet connection, your computer can be fixed without you taking it to us
Public Group
Business Group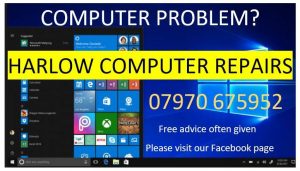 If your  Windows pc or laptop is now doing things it shouldn't do, please give us a call
(before its too late)
Harlow Computer Repairs (ASK FOR FRANK)
TEXT 07970 675952 or call (01279) 432913 –
7 Days a week no fixed hours – answer service when out and about
"YOUR LAPTOP OR PC PROBLEMS CAN BE SOLVED IN JUST ONE CALL!"
FREE ADVICE GIVEN ON OUR LAPTOP & PC REPAIRS
VISIT OUR FACEBOOK SITE
FOR UP TO DATE INFO ON KEEPING YOUR COMPUTER IN TIP TOP CONDITION
MAC USER? – WE CAN PUT YOU IN TOUCH WITH A GREAT LOCAL COMPANY THAT WORKS WITH APPLE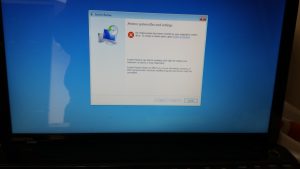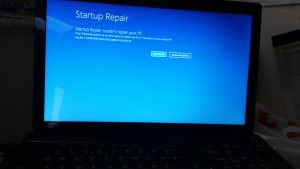 follow us on twitter @harlowpcrepairs
         " We can copy your old video tapes and memory cards to dvd from only £10 "
                visit https://www.facebook.com/groups/170693546426913/